When you're making an investment in a 20th-century still life painting, it can be hard to narrow down your selection. There are so many fantastic artists from the last century, and so many art movements to embrace, that a helping hand can be invaluable to strike the right balance when choosing and hanging your piece. Here are some of the main aesthetic points you need to consider.
Make the Painting a Focal Point
You want your art investment to make an impact – it doesn't deserve to be hidden away. Consider where the light source is in your chosen room, and whether too much direct light (or not enough natural light) will pose a problem. Protect your painting from harsh lighting, of course, but don't let it sit unloved in a shadowy corner. Hang it prominently, perhaps over a fireplace or a dining table, where it can really be enjoyed.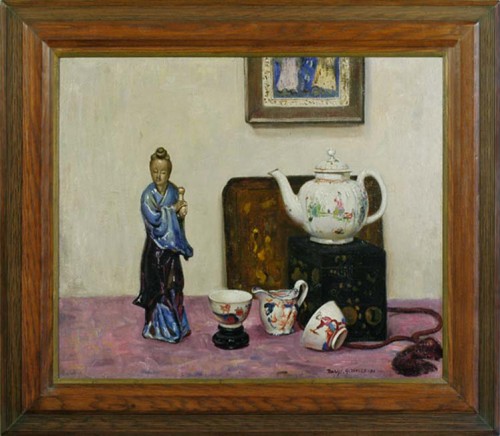 Denys George Wells' Still life with Chinese porcelain and a statuette
Embrace a Theme
Any accent colours in 20th-century still life paintings, like the cornflower blue of Denys George Wells' 'Still life with Chinese porcelain and a statuette', can be accentuated by coloured accessories in the room, such as a cushion or vase, or collectable objects mirroring the theme. Taking the Chinese porcelain figure in this painting, you could add some Chinese porcelain antiques, or perhaps some willow patterned pieces (very popular in the 20th century), to continue the theme beyond the frame and into the room. You might also consider buying other paintings featuring Chinese iconography.
Find a Style That Suits Your Home
The period of your house may also be a consideration if you fit your décor to the age of the property. For example, a Georgian house may use Georgian-inspired soft furnishings. Whilst your art collection doesn't have to be solely from this period, an ultra-modern artwork may jar with the overall tone. For example, 20th-century paintings of consumer items, such as the Pepsi bottle in George Weissbort's 'In the studio: a break for a Pepsi', would look inappropriate here. Try a more subtle still life painting, such as Weissbort's 'Still life with three Bramley apples'.
Now you've decided where to hang your painting and how to show it off at home, you can begin collecting 20th-century still life paintings in earnest. Contact us for more information on establishing and building your fine art collection.